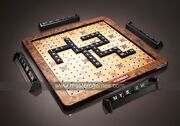 Scrabble
is a
word game
in which two to four players score points by forming words from individual lettered tiles on a gameboard marked with a 15-by-15 grid. The words are formed across and down in
crossword
fashion and must appear in a standard
dictionary
. Official reference works (e.g.,
The Official Club and Tournament Word List
,
The Official Scrabble Players Dictionary
) provide a list of permissible words.
The name Scrabble is a trademark of Hasbro, Inc. in the United States and Canada. Elsewhere,Scrabble is trademarked by Mattel. The game is sold in 121 countries and there are 29 different language versions. Approximately 150 million sets have been sold worldwide, and sets are found in roughly one-third of American homes.
Word Games
Networdz - A great Scrabble clone. Very fast, with adjustable levels and options, and comes with two full Scrabble dictionaries
ScrabOut - An earlier version of Networdz. It has a smaller dictionary, so it's a little more realistic - but you can add words easily, one at a time, to give it a larger vocabulary.